Hippotherapy
When a horse's movement is transferred to a patient through equine-assisted therapy, it produces a combination of sensory, motor and neurological input that we use to treat a wide variety of diagnoses. These include, but are not limited to:
• Autism • Cerebral Vascular Accident (Stroke)
• Cerebral Palsy and PVL • Traumatic Brain Injury
• Down Syndrome • Developmental Delay
• Sensory Integrative Dysfunction • Spinal Cord Injuries
• Attention Deficit • Genetic Disorders
The list above is certainly not comprehensive. Any child who is in need of physical and/or occupational therapy may be appropriate to receive therapy at Children's TherAplay.
One-on-one treatments
Each child's sessions are designed to achieve individual therapeutic goals, which are determined by the Children's TherAplay treatment team in conjunction with the patient and their family. Sessions are one-on-one and utilize the treatment tools in our child-friendly clinic as well as the horse as a tool.
Safe and effective therapy
The Children's TherAplay therapy horses are carefully chosen for their temperament and the type of movement they produce. All are specifically trained for their unique role within therapy sessions and are guided by professional horse handlers, and when appropriate, an additional side-walker for assistance, to optimize safety and effectiveness.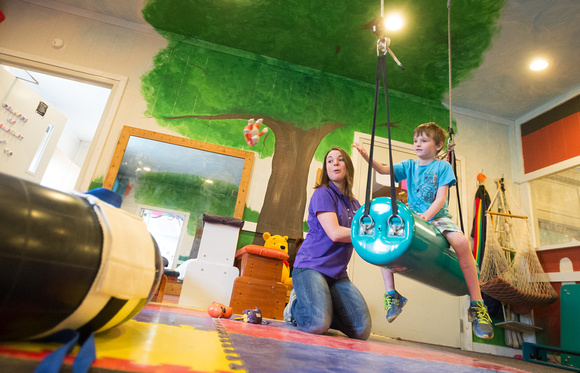 Age and weight ranges
Children's TherAplay treats children between the ages of 18 months (two years for kiddos with Down syndrome, due to atlantoaxial instability) and 13 years with a maximum weight of approximately 80 - 100 lbs. If your child cannot sit independently and requires assistance, the maximum weight is approximately 45-60 lbs.
Insurance information
Children's TherAplay is an in-network provider with most private insurance carriers as well Indiana Medicaid and Children's Special Healthcare Services.
Each insurance plan can vary, so be sure to contact your insurance carrier to see what benefits your plan provides for outpatient physical and/or occupational therapy.
If your insurance benefits have been maximized, there are options for self-pay and our scholarship program.