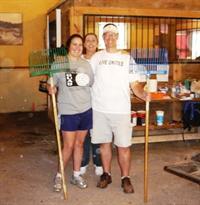 The work we do here at Children's TherAplay would not be possible without the help of our dedicated volunteers. We truly appreciate any and all assistance we receive.
As a not-for-profit, we want every available dollar to go into therapy for kiddos. Volunteers help keep our overhead low and ensure we have more funds available for our therapy program.
We have a wide variety of volunteer opportunities, ranging from fundraising to cleaning.
Volunteer opportunities
General office help: Data entry, scanning documents, stuffing envelopes etc.
Cleaning: We operate out of a barn, so we clean a lot! Sweeping, vacuuming, disinfecting, etc.
Groundskeeping: Weeding, mulching, planting, etc. If you have a green thumb and the desire, we'll let you go to town!
Handyman / general repairs: We work out of an older facility so we can always use a hand with repairs or construction projects.
Help in the barn: For safety reasons, you must be an experienced horseperson to volunteer in the barn. Mucking stalls, filling water buckets, cleaning tack, grooming horses, and so forth
Fundraising events: Throughout the year we do many different fundraisers for which we can always use volunteers. Please refer to our Save the Date Volunteer Opportunities find something that might appeal to you.
We do ask that our volunteers…
Be at least 16 years of age. In some cases volunteers may be required to be 21 and over.
Be able to work independently without close supervision. We're a small not-for-profit and, like most, are very short-staffed.
For more information about volunteering, contact Katie Stratman.
Keep in touch!
If you'd like to stay in touch, we'd encourage you to check out the following: