There's an easy way to find out how treatment at Children's TherAplay makes a difference for children with special needs: meet some of our kiddos and to discover the gains, both large and small, we're honored to be a part of every day.
Meet Laila

You'd never know, from the way five-and-a-half-year-old Laila giggles and skips and hops her way through physical therapy, that she wasn't able to sit up until she was 13 months old, the same age at which many children begin walking.

Gross motor delays are a hallmark of hypomyelinating leukoencephalopathy, or the loss of white matter in the brain, a disorder which, in Laila, resulted in profound sensorineural hearing loss; challenges in balance, strength, and coordination; and decreased safety awareness.

Laila's parents began noticing a difference in their daughter after just a few physical therapy treatments at Children's TherAplay. What changes did they see?
Meet Jonah

Juan called his wife Monica from the Children's TherAplay waiting room a couple of weeks ago with exciting news: Jonah had said Hi to two strangers, unprompted.
Monica's heart soared. There was hope.
At age five their son Jonah seemed to be somewhat aware of the world around him but was only distantly engaged. But now, with four months of occupational therapy treatment at Children's TherAplay, that was changing.
Meet Brayden
M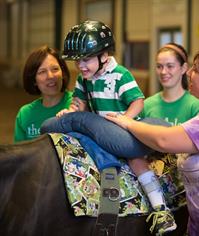 any people take sitting up for granted. Not Brayden's parents. Their son was only able to sit for a few seconds on his own when he began receiving physical therapy at Children's TherAplay.
But, as Brayden's father Todd explains, "Within the first six months to one year of hippotherapy, he got to the point where he could sit on the bench for 30–40 minutes by himself – independently – and watch TV."
The strength and skills he's developing create, "a whole other level of being able to interact and interface with the world instead of constantly having to lay down."
Meet Lauryn

Jennifer clearly remembers the first time her daughter was able to make a full lap around the arena while standing upright on a therapy horse. Lauryn's smile was pure sunshine. Here was a child who fell more than she walked yet, through equine-assisted physical and occupational therapies, had developed the core strength and balance reactions to stand tall and proud as her therapy horse circled the arena. "She was so excited. She said, 'I did it! I did it!'" It was a big day.
But before Lauryn started treatment at Children's TherAplay, that gain and the many others she has since made seemed a long way off.
Meet Leo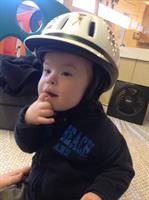 Watching a child progress from scooting to crawling, then standing, and finally taking those first big steps is one of the great joys of parenthood. For Leo's parents though, it seemed like these particular celebrations might not come.
There were many other things for Matt and Laura to celebrate – two-year-old Leo was bright, loving, and so full of life – but these milestones were not among them. At least not until Leo began receiving equine-assisted therapy. Then, as Matt says, they were "off to the races!"
Meet Emma

Emma's mother shares, "The horseback therapy and the work that Emma has done with Abby and Sam has been the most beneficial we've seen, and she's had many therapies including aquatic therapy and early intervention. Even her early interventionists have talked about the improvements they've seen." Find out why.

Meet Olivia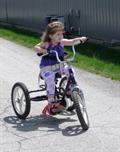 When she came to TherAplay in 2012, Olivia's initial evaluation showed she was approximately 12 months delayed in development with low tone; muscle weakness; and challenges with motor planning, sensory integration, and delayed fine and gross motor skills. In addition, Olivia showed very little expression and her vocabulary was limited to two spoken words and a handful of signs.
All that changed when she began treatment at TherAplay.
Meet Catalina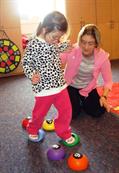 "Mama I can jump!" Catalina squealed. It was a big day. Three-and-a-half-year-old Catalina thought she had been jumping before but as her mother Beatriz reports, while Catalina's upper body bobbed and swayed, her feet had never left the ground.
Born with Down Syndrome, Catalina was receiving physical therapy and occupational therapy through First Steps for overall gross motor delay when a friend of the family told Beatriz about TherAplay. As someone who feels nervous around animals herself, Beatriz would never have guessed that within a short time of beginning treatment at TherAplay Catalina would be talking about TherAplay and Zippy, the pony she rides most often during treatment sessions, nonstop. "It's been amazing. She's developed this love for these animals. She wants to go ride a horse." And jump, all over the clinic and all over her home.
Meet Declan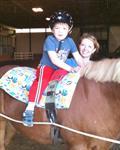 My son Declan has a terminal disease, MPS ("Hunter Syndrome") and has countless hours of therapy every week in order to retain the skills he has now. The expected life span for children with an MPS disease with cognitive impairment is around 15 years. For now, he is a very happy, strong, exuberant four-year-old with the cognitive level of a two-year-old. His weekly therapies include speech therapy, occupational therapy, physical therapy, aqua therapy, and a four-hour intravenous infusion every Wednesday at Riley Hospital.
What gains has Declan made at Children's TherAplay?
Meet Mia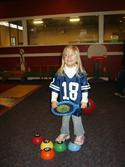 I suppose a story like Mia's deserves to be told, but finding the right place to begin is difficult. My pregnancy with her was a whirlwind of ultrasounds, specialists, and panic. At 20 weeks, I was diagnosed with a chorioangionoma, a rare tumor that had attached to my placenta. Further testing revealed that our baby was missing part of her brain near her cerebellum. The prognosis we were given was grim: she would never walk, probably never talk and would most likely be severely mentally retarded. We were encouraged to abort our precious baby, something we would never consider. We continued the pregnancy with weekly appointments, but were warned that our child was at high-risk for fetal heart failure. At 28 weeks, my water broke and Mia entered this world a deep shade of blue and completely sepsis. She was transported immediately to a NICU where she spent more than three months healing, recovering and growing. We were able to bring her home right before Christmas that year, but our journey was only beginning...
Meet Emma
Emma has always been afraid of animals. Household pets like dogs and cats cause her to stiffen up, quiver and scream. When her Nana's very sweet and slow-moving bulldog, Ali, comes anywhere near Emma, she will yell, "Get her away from me! I'm gonna freak out!" She also doesn't like stuffed animals that make noise or move. She does like the zoo but knows the animals are behind fences or in cages.
Imagine my surprise when she told me at age three that she wanted to ride the pony at the farmer's market! She did it, loved it, and I had to take her back the following weekend so Daddy could see it with his own eyes! Continue Emma's story.
Meet more Children's TherAplay kiddos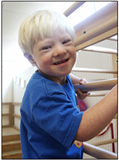 Read more incredible stories about our kids, their families, and their experiences at Children's TherAplay Foundation.
Testimonials from the families we serve

"The progress Cole has made is beyond anything we could have imagined. It is heartwarming to know your child is loved by everyone here."
-- Cole's family
"We feel very blessed to have become a part of the TherAplay family of therapists, staff and other families."
-- Suzanne, Children's TherAplay parent
"Brendan squeals and claps when we pull into the entrance at TherAplay. He's made so many gains since he started. The horse is amazing."
-- Brendan's mom
"... thank you for this 'magical place.' Landon has made such strides. He has truly improved far more at TherAplay than in any other physical therapy program."
-- Doug and Brenda, Landon's parents
"Jacob attends TherAplay for his sensory integration issues, speech, cognitive delay and low muscle tone. Since his hippotherapy started, we have noticed changes in his strength, fine motor skills, attention span, eye contact and speech. Jacob is so happy when he is at TherAplay."
Ellen and Jason, Jacob's parents