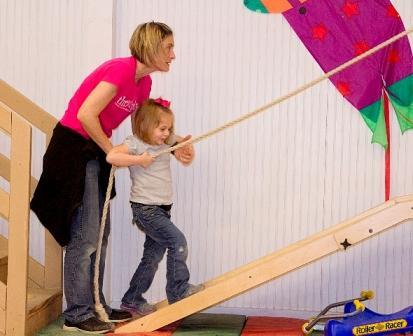 When kiddos come to Children's TherAplay for physical therapy, our therapists work one-on-on with them to increase gross motor skills -- developing the strength, balance and coordination to do things like: hold their head up, sit up, stand, walk, go up and down stairs and more. All of these skills are critical to our patients' future independence and quality of life.
Therapists use different positioning on the horse to reach and strengthen different muscle groups. The movement of the horse also naturally challenges balance and coordination. Of course, the time kids spend on the horse is fun, so they don't realize how hard they're working!
Therapists combine their work with kids on horseback (Hippotherapy) with activities in our fun and child-friendly clinic to maximize results.
Who Benefits?
At Children's TherAplay we see children for physical therapy for a wide variety of diagnoses. These include: cerebral palsy, down syndrome, autism, developmental delays, brain or spinal cord injuries, and genetic disorders. For more information, click here.
Expertise
All of Children's TherAplay's therapists are licensed by the State of Indiana and have national certification through the American Hippotherapy Association to integrate horses safely and effectively into their therapy session.
In addition, our physical therapists have additional training in sensory integration, kinesio taping, gait training and early intervention.