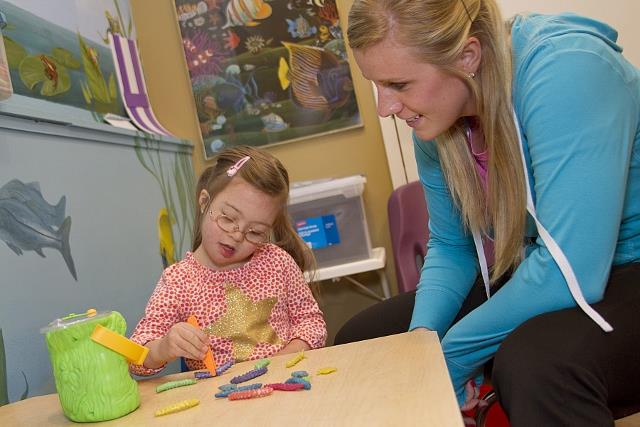 When kiddos come to Children's TherAplay for occupational therapy, our therapists work one-on-on with them to develop fine motor skills and be successful at activities of daily living. Fine motor skills include: holding a pencil, crayon, spoon or fork; picking up puzzle pieces, etc. Activities of daily living include: playing appropriately with other children, self-feeding and dressing skills and more. In addition, we address issues related to sensory processing so that kids are able to participate actively in their home and school environments. These skills are critical to our patients' future independence and quality of life.
Our pediatric occupational therapists use different positioning on the horse to maximize weight bearing, balance, coordination and timing. Our horses provide different movements for the kiddos based on their developmental needs. For example, a child with a low arousal level is paired with a horse that has high movement. This gives the child the means to stay alert and balanced without even realizing it.
Therapists combine their work with kids on horseback (Hippotherapy) with activities in our fun and child-friendly clinic to maximize results.
Who Benefits?
At Children's TherAplay we see children for occupational therapy for a wide variety of diagnoses. These include: autism, cerebral palsy, down syndrome, developmental delays, social/communication delays, brain or spinal cord injuries, and genetic disorders. For more information, click here.
Expertise
All of Children's TherAplay's occupational therapists are licensed by the State of Indiana and have national certification through the American Hippotherapy Association to integrate horses safely and effectively into their therapy session.
In addition, our occupational therapy staff have bachelor's and master's degrees in occupational therapy as well as additional training in sensory integration and the Beckman Oral Motor Protocol.