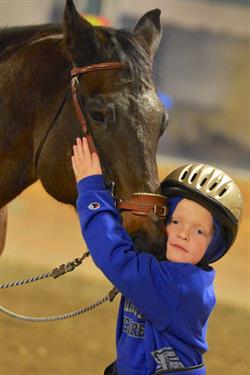 Dear friends,
You might not realize this, but being a therapy horse at Children's TherAplay is wonderful, and that goes beyond the excellent care we receive here. You see, we are deeply loved – not just by our staff friends at Children's TherAplay but also by the children we serve and their families.
You should see the way our kiddos' faces light up when they open the door to the arena and see us waiting for them. Sometimes they get so excited that they take their therapists by the hand and come running, all dancing eyes and outstretched hands, to whisper in our ears: "I missed you" or "I love you."
During on-the-horse treatment time they pat us, and sing to us, and tell us about the wonder of their lives. And no session is ever complete without a heartfelt hug or "thank you" for their four-legged friends.
Can you imagine anything better than that?
We can. Because in addition to receiving all of this love, we have the opportunity to share our own hearts in return and help these very special children blossom.
We therapy horses rejoice as well
You may think it is only the humans who celebrate when a child makes a stride towards greater independence but that is not the case at Children's TherAplay. When Ethan learned to skip, when Taegan learned to zip her own jacket, when Kaleb learned to walk, we therapy horses rejoiced as well.
It is a good life, a very good life. And we are so very thankful to all of you who not only make it possible but also support our work here at Children's TherAplay.
You help us raise funds, cheer us on over Facebook, Google+, Twitter, our blog and even our e-newsletter, and introduce us to new families so we can help even more children.
A special gift
That's why, in appreciation for helping us with those unexpected veterinary bills, we made a special gift for you: a gift from the heart. The video below is our way of saying thank you and celebrating all that you help create here at Children's TherAplay.
For these reasons and more, we thank you.
Love,
The therapy horses at Children's TherAplay