Meet the hooves behind the hippotherapy, our trusty therapy horses.
Rocky
24-year-old Quarter Horse
Rocky is our official barn greeter. He loves giving hugs and kisses and having his neck scratched.
Rocky is also quite the social butterfly and, as our equine ambassador, spends much of his free time posting to the Children's TherAplay Facebook page and contributing to our blog. He has also been known to serve as our website consultant!
Fun fact: You can see Rocky in action during this schooling video with Equine Program Coordinator and Barn Manger Jenny Atkinson. Be sure to turn up the volume so you can hear Rocky's "purr."
Gideon
22-year-old Haflinger
Our very own GIDEON was named 2016 Indiana Horse Council Equine-Assisted Programs Committee Horse of the Year. Congratulations buddy!
As a versatile and reliable mount —and the longest-serving member of our therapy horse team — Gideon is a huge asset to our program.
And this guy likes to eat! He gets so excited about his food that he buries his face in his hay.
Fun fact: Gideon was kind enough to grant us a special video interview. Learn how he responded to the most frequently asked question, here.


FairyTale
19-year-old Welsh Pony
Fairy is the barn princess and she has the crown to prove it!
She knows how to get what she wants using her good looks and charm. Don't let her fool you because at heart she is a sassy girl who doesn't keep her opinions to herself and loves being the boss.
Fairy also has a way with children and her steady pace makes her a wonderful therapy horse. You can see for yourself as she goes to work with Physical Therapist Assistant Jen Grillo and Children's TherAplay kiddo Zac in this video.
Fun fact: FairyTale and Jen made a big splash in our inaugural Fall Festival Hosestravanza costume contest. See for yourself what they won.
Zippy
21-year-old Welsh Pony
Before coming to Children's TherAplay, Zippy was a lesson pony next door at Lucky Farms and taught many children to ride.
Though he's small in stature, Zippy has a big personality. He can be a little sassy when he wants but he is always curious and kind.
Fun fact: Zippy is the self-appointed guardian of the horse treats. When anyone comes near the treat bucket, Zippy sticks his nose through the bars of his stall to investigate.

Amore
18-year-old Haflinger
Moe has a young personality and is curious about everything. He enjoys playing in this pasture with his "Mini Moe" (Gideon).
Fun fact: Moe has also perfected the Stop, Drop, and Roll and was gracious enough to demonstrate it in his own public service announcement video.
Padre
19-year-old Mustang / Quarter Horse cross
His sweet and conscientious personality makes Padre a great caretaker of our kids and the other horses. He wants everyone to be happy and is very vocal if he senses something out of place.
Two of Padre's favorite pastimes are playing ball with Rocky and rolling around in the dirt or mud and getting as dirty as possible.
Fun fact: You can see Padre star in our Children's TherAplay kiss cam here.
Cinnamon
19-year-old Quarter Horse
Cinnamon has a sweet personality that made her an instant success at her new job. She's blossomed under all the attention she receives at Children's TherAplay and been absolutely delighted to make the acquaintance of the beautiful horse looking back at her from the arena mirror.
Fun fact: At the 2012 Children's TherAplay Hoe-Down, 22 different people contributed to sponsor Cinnamon for the year. To Cinnamon's way of thinking, those 22 sponsors make up an extra-large family, one she is extremely proud to be a part of!

Red
14-year-old grade pony
Red stole everyone's heart when he arrived as he is nothing short of adorable! He's the perfect size for our smallest patients and is curious and gentle with the kiddos. Red loves playing outside with his pasture buddies.
Fun fact: Equine Ambassador Rocky helped us get to know Red and welcome him to TherAplay with this sweet interview, featured on our news blog.
Riley
22-year-old Quarter Horse
Riley's easygoing attitude and love of people make him an ideal therapy horse. He is a gentle giant and a total sweetheart -- and he loves people! Riley is eager to please and can get along with anyone – horse or human.
Fun fact: Riley is a true "people horse" and often stretches his head out of his stall to say hello and make new friends.
Mikey
26-year-old grade pony
A retired lesson horse, Mikey joined the Children's' TherAplay team in January of 2015 and quickly proved himself to be a great favorite with our kiddos. He is unfailingly patient, gentle, and trustworthy with our kiddos.
Fun fact: Mikey loves taking naps with his chin resting on his stall door, and he also enjoys getting his bright coat as dirty as possible.
Thor
13-year-old Norwegian Fjord
Thor's flashy mane and tail, a trademark of his breed, caused an instant sensation among our kiddos when he came to Children's' TherAplay in January of 2017. But it was his can-do attitude, affectionate nature, and active rolling movement that made him the perfect fit for our program.
Fun fact: Thor comes to us with experience in dressage, which some people describe as dancing for horses. In case you're wondering, that is definitely a clue as to which IndyCar driver he is paired with in the 2017 #Horsepower500.
Hank
17-year-old Quarter Horse
Hank became part of the Children's' TherAplay family in August 2017. His mom describes him as a laid-back, sweet guy. We have to agree. Our new friend is about as sweet as they come!
Fun fact: There's a reason Hank's mom says he has "been there done that!" He comes to us with experience in 4H, English shows, and trail-riding.
W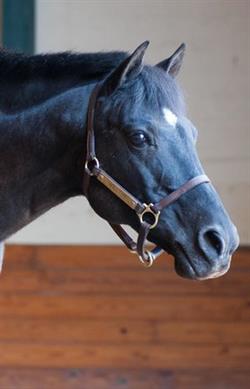 illow
23-year-old Hackney / Welsh Pony cross
This pony has a great deal of experience working with kiddos! Willow was a champion hunter show pony at Lucky Farms for many, many years. More recently, as a lesson pony, she's helped young children learn how to ride.
Upon retiring in September 2017, Willow trotted over to our stable and proceeded to make herself right at home.
Fun facts: Her registered name is "Tickles-'n'-Giggles." Amazingly enough, Willow belonged to the family of our 2017 summer intern, Cassidy.