Whether you're looking for a ride on our legendary mechanical bull at the Hoe-Down or an event the whole family can enjoy, you've found the right place.
Learn more about the outstanding events The Children's TherAplay Foundation has lined up for 2017. And if you have any questions, we're happy to help. Contact us.
Children's TherAplay Show and Tail Fundraising Breakfast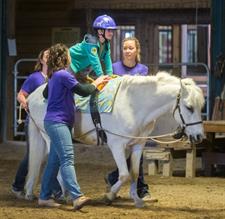 You've heard about the wonderful things that
happen at Children's TherAplay, but have you seen the kiddos and therapy horses in action? This is the perfect opportunity to discover for yourself how hippotherapy changes lives.
Tuesday, February 28, 2017 at Children's TherAplay
Reserve your seat | Donate | Learn more
Children's TherAplay #Horsepower500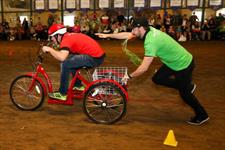 It's the greatest spectacle in adaptive tricycle racing!
Join IndyCar drivers, our kiddos and therapy horses, and NBC Sports for a relay race that will have your entire family laughing out loud.
Tuesday, May 9, 2017 at Children's TherAplay
Tickets | Sponsor | Media | Learn more
Children's TherAplay Golf Tournament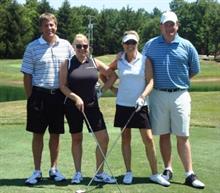 Enjoy a beautiful day on the links with your fellow Children's TherAplay supporters. Individual and team competitions (with exciting prizes!) plus plenty of good food and adult beverages keep the day lively.
Thursday, June 8, 2017 at Prairie View Golf Club

Golf | Sponsor | Volunteer | Learn more



American Hippotherapy Association Course:
Level II Hippotherapy Treatment Principles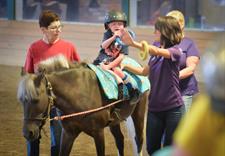 While many occupational, physical, and speech therapists must travel across the country to receive AHA-certified training, we are proud to offer the Level 2 coursework, taught by AHA faculty, right here in Central Indiana.
Friday, June 16 - Monday, June 19, 2017 at Children's TherAplay
Register | Meet your instructors | Learn more
Children's TherAplay Sibling Camp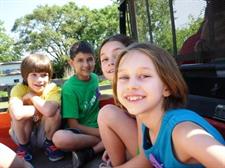 Once a year, the brothers and sisters of children who are currently receiving treatment at Children's TherAplay have their chance to be "Children's TherAplay kiddos" too. And they love every minute of it.
Thursday, June 29, 2017 at Children's TherAplay
Register | Volunteer | Learn more

Trends International Chariti-BOWL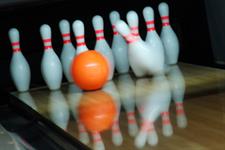 Over the past 13 years, Trends International has raised more than $400,000 through their Chariti-BOWL event and, once again, Children's TherAplay is honored to have been selected as one of the beneficiaries.
Saturday, August 19, 2017 at Woodland Bowl


Children's TherAplay Hoe-Down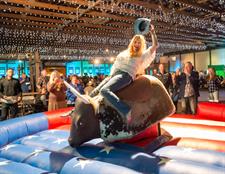 Between the mechanical bull-riding competition, our legendary 30-foot-long saloon (with bottomless drinks, ya'll), live music from Corey Cox, unforgettable live and silent electronic auctions, and more, our signature fundraising event will fill up fast. Plan to purchase your tickets early!
Saturday, September 23, 2017 at Children's TherAplay
Tickets | Sponsor | Volunteer | Learn more